Guy Swann & Jack Spirko Discuss Nostr's Future – Epi-40
Podcast: Play in new window | Download (Duration: 2:13:29 — 38.2MB)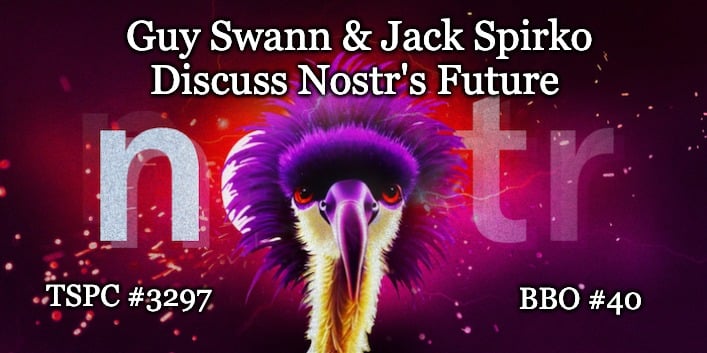 I asked Guy to join me today to talk about Nostr & it's future. The monetization of the app space, the concept of "one key pair and your tribe is everywhere, what comes next and a ton more. Don't miss this one.
Nostr is not a social media site, it is a protocol sort of like email or http and it uses clients (similar to say outlook for email) for users to communicate information and exchange value with each other.  As such it can't be stopped, it can't be censored and you never lose connection to your network of friends and followers.
It also has integrated payments via the Bitcoin lightning network allowing for exchange of value from levels as low as factions of a cent up to virtually no limits.  This is also uncensorable and unstoppable.  There is something more at play here though and it is why I invited Guy back to the show and that is what comes next.
Since last summer I have been forecasting that any app that can be monetized would be in the next five years and in doing so they will increase the power of their network effect.  Today Nostr is accelerating that reality.
Join Guy and I to Discuss…
What is Nostr in the first place and why it isn't simply a twitter clone
The difference between protocol and platform and the migration of apps to clients
The impact of a network that is unstoppable along with a payments system that is as well
The path to centralized social media and the new path away from it
Monetizing activity in real time
The way fiat creates a culture of disposable everything and a shortage of everything of value
The honest role of money that can't be fulfilled by fiat, ever
Business models that will eventually exist on Nostr
The way live video will eventually play a role in Nostr's future
An absolute total ton more!
Jack's Links
Sponsors of the Day
Guy's Links
Guy's Nostr Pub Key – npub1h8nk2346qezka5cpm8jjh3yl5j88pf4ly2ptu7s6uu55wcfqy0wq36rpev
Video Version of this Podcast Episode
* The Bitcoin Breakout is a production of The Survival Podcast