Announcing the GrowNostr Initiative – Epi-39
Podcast: Play in new window | Download (Duration: 1:38:00 — 28.0MB)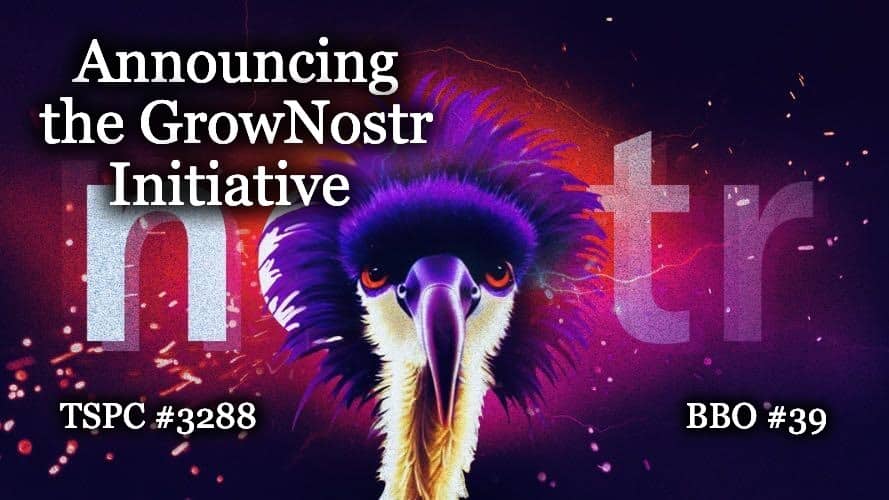 Having been on Nostr now for about a month and having banked a nice stack of satoshis in that time I have come to really appreciate what Nostr is all about.  In other words by using it, I get it.  There are some hiccups, this thing is brand new and not everything works all the time.  But Nostr is really not even a beta product yet, more like pre alpha.  So that will correct in time.
The one legitamate complaint by members of my audience is that the conversation is dominated by Bitcoin talk.  This makes sense as Nostr's first adopters were mostly Bitcoiners and Bitcoin Lightning is integrated into Nostr.  That said when I was banned for a week from Twitter and spent some real time using Nostr, I as I said, "got it".  Total freedom, but what to do about the one subject dominance?
Well, rather than bitch, how about a solution that helps Nostr, helps Nostr users and helps everyone involved grow.  Hence today I launched the Grow Nostr Initiative.  A simple plan that simply asks people to share content that is not Bitcoin related, tag it with #grownostr and follow some other guidelines.  I figure the average person who follows the program for 90 days will emerge with diverse array of people they follow and who follow them.  Increasing Nostr's diversity of content and network effect at the same time.
Everyone seems to think right now all Nostr is amounts to a Twitter clone.  That as you will see today is just one of the first applications of this new protocol.  The long term impact of Nostr, may end up being as large as Bitcoin itself.  How is that possible?  Tune in today and find out.
Join Me Today to Discuss…
What is Nostr

Notes and Other Stuff Transmitted by Relays
A protocol not a platform or an app
A single point of login to various services that you 100% control
A way to keep your network/contacts no matter what any individual app does
A rapid incentive to innovate and add features quickly
A zero bullshit new world with no self important assholes in suits making decisions

What does the Grow Noster Initiative seek to grow

To grow Nostr itself by on boarding new users
To grow the lifestyle design of participants by expanding knowldge
To grow the person to person networks or all participants
To grow a huge number of diverse sub communities on 1000s of subjects

How do you participate

Get on Nostr
Commit to the plan and follow it for at least 90 days

Make two #grownostr posts a day minimum (anything but Bitcoin content)
Hash tag those posts with #grownostr and other relevant hash tags
Check the #grownostr feed at least once daily and follow at least two new people using it
DM those people with, "I found you on Grow Nostr and gave you a follow" or similar
Check your DMs and follow back people DM'd you from Grow Nostr
Make at least 4 comments in posts tagged #grownostr every day
Zap at least 2 people using #grownostr every day

Advice for Set Up and What I Use
For IOS I really like Damas.io so does Jack Dorsey by the way

Android users seem to like Amethyst
Why I recommend multiple clients to play around with
What are zaps, how do they work

Really Understand What Nostr Is

An active marketplace of V4V ideas and entertainment
A protocol with integrated payments that many things can and will be built on
A single point of control of all your contacts and networks and knowledge
A baby T-Rex that the other dinosaurs don't fear or understand yet

What can be built on Nostr besides Twitter clones

Value based blogging platforms like BlogStack.io
Instant Messaging with Integrated Payments like Emon.chat
Things like traffic apps, shopping apps, location apps, take your tribes anywhere you go

Things I have seen happen since I got on just 30 days ago

Polls on some clients (50 sats to vote) creator gets the sats
Enhanced spam filtering on global feeds (especially Damas)
A way to create invoices for items for sale in feed (I don't even know how to do this but I saw it)

You are looking at the future, don't pretend it is too hard to be part of it
Jack's Links
Sponsors of the Day
Video Version of this Podcast Episode
* The Bitcoin Breakout is a production of The Survival Podcast