Bitcoin: The Stealth Weapon of the Modern Prepper – Epi-41
Podcast: Play in new window | Download (Duration: 1:34:38 — 27.1MB)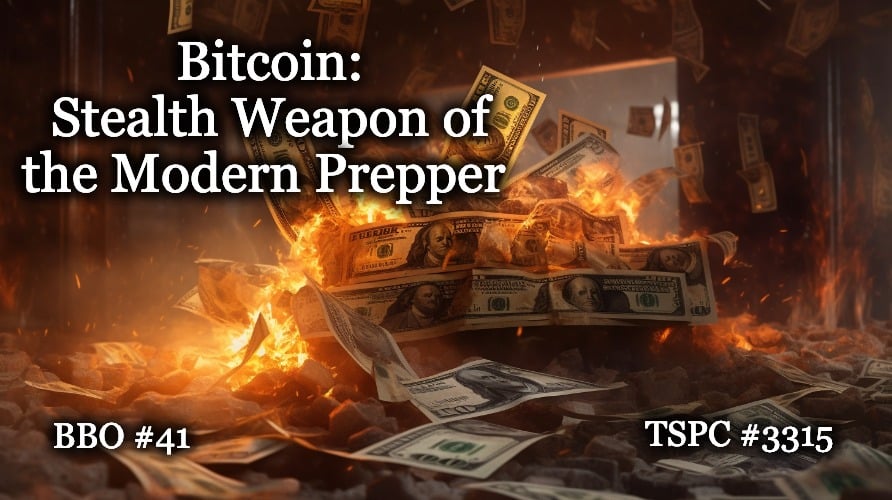 Today we are going to look at the relationship between Bitcoin and two concepts we discuss often on the podcast; preparedness and permaculture. We're going to dive deep into how these three elements intertwine and why it's crucial to grasp their connection.
Let's start with Bitcoin in the context of preparedness. Bitcoin, as a decentralized digital currency, operates independently of any central authority. This unique characteristic makes it a reliable store of value and a means of exchange, especially during times of crisis or economic instability. We'll explore how Bitcoin can be a strategic tool for financial preparedness, offering a buffer against the impacts of economic downturns.
Next, we're moving on to permaculture. This is all about designing sustainable and resilient communities. It's a holistic approach to providing all human needs while working with nature, not against it. By weaving permaculture principles into our lives, we can build self-sufficient, resilient communities that are ready to take on the challenges of the future.
Finally, we're going to tie these two concepts together. We'll look at how Bitcoin can support permaculture initiatives and how permaculture can provide a framework for building sustainable and resilient Bitcoin communities.
So buckle up, because we're about to dive into the deep end of Bitcoin, preparedness, and permaculture. By exploring these concepts together, we can gain valuable insights into how we can build a more sustainable and resilient future for ourselves and our communities.
Join Me Today to Discuss…
Decentralization
Resilience
Self-Sovereignty
Sustainability
Diversification
Peer-to-Peer Transactions
Global Accessibility
Inflation Protection
Privacy
Innovation and Adaptability
Energy Conservation
Survival Need for Energy
Securing Other Data
Jack's Links
Sponsors of the Day
Video Version of this Podcast Episode
* The Bitcoin Breakout is a production of The Survival Podcast