Jesse Markowitz on the Start9 User Experience – Epi-18
Podcast: Play in new window | Download (Duration: 2:05:29 — 28.7MB)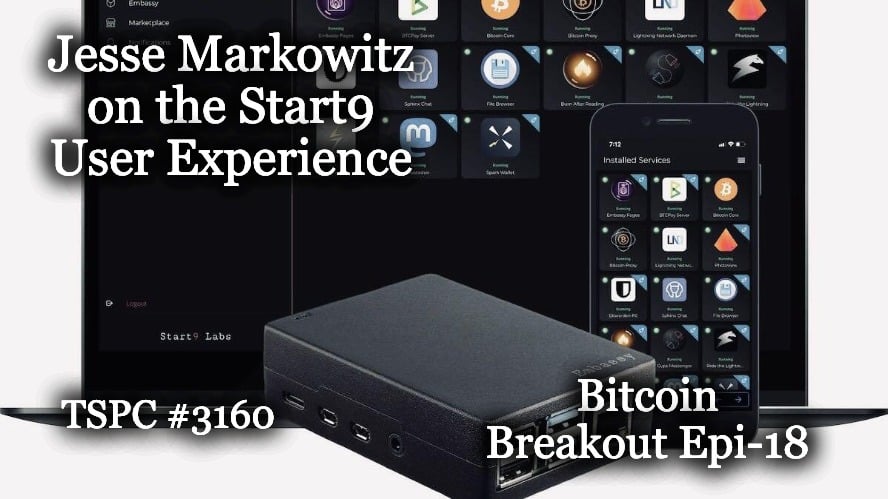 Today I am joined by Jesse Markowitz to discuss the Start9 Embassy server from a customer's perspective.  I have had Matt Hill on twice about digital sovereignty via Start9's technology.  But I thought the perspective of an end user might really bring value to our audience.
Jesse is a Computer Enthusiast and programmer for over 35 years. He has an engineering Degree from the Georgia Institute of Technology and an Executive MBA from the University of Texas at Austin. He started looking at Bitcoin in 2012 – but not seriously (didn't keep any). He got back into crypto in 2017, purchasing books online for crypto and learning how it works. In 2019 he was answering questions for family and friends and even giving talks for small groups.
By 2020 and throughout 2021 he traded Bitcoin and Alt Coins actively (and did staking, mining, liquidity pools, DeFi) and made a bit of money while learning a lot. In 2022 Jesse has focused on Bitcoin with lightning. In 2021 after listening to Jack promote the advantages of a side hustle for years, he finally started a side hustle himself – YourPersonalCryptoAssistant.com.
He has been on the radio in Arizona and Florida with The Stock Dr. – Lee Siler and interviewed on Skystone Partners' On Giving series talking about "Real Donations in Virtual Currencies: Bitcoin and Beyond". Recently he presented "Cryptocurrency and Taxes: A review of Cryptocurrency and tax considerations" to the Pennsylvania Society for Tax and Accounting Professionals.
He was on TSP / Bitcoin Breakout in July 2022 discussing Lightning Nodes for beginners. That lightning node was run on his Start9 Embassy server. Today he is back on to talk about why someone might want to run a Start9 server and how to get started.
Video Version of this Podcast Episode
Sponsors of the Day…
Start9.com – Take Back Your Digital Sovereignty
Butcher Box – Grass Fed Beef, Pastured Poultry & Pork to Your Front Door
Jesse's Links
Jack's Links
* The Bitcoin Breakout is a production of The Survival Podcast