The How What & Why of Bitcoin Self Custody – Epi-28
Podcast: Play in new window | Download (Duration: 1:24:55 — 19.4MB)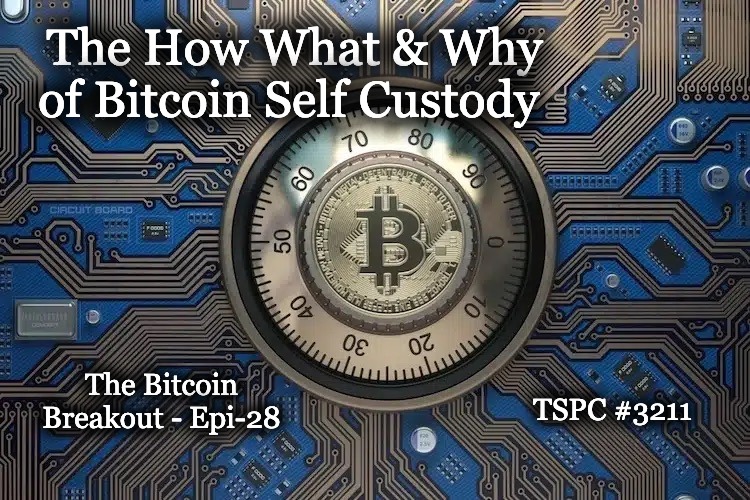 The entire point of bitcoin is that you can self custody your bitcoin.  In fact while many seem to think "be your own bank" means run your own node, it is really all about self custody.  Think about why we have banks in the first place.  Banking as we know it (international banking) goes back to the times of The Knights Templar.
In this time people would make pilgrimages to the holy lands.  You may imagine at such a time only those with means could make such a journey.  The journey would be long, hard and expensive.  You'd also have to pay for things while in the holy land, then have enough to get back to say England.
At this time gold was money.  And if you had gold it had value you could use anywhere.  If I stole your gold there was not much you could do about it.  If I got away it was just gone.  So the Templars invented a banking system.  You could give them gold, they gave you a receipt and you could get your gold back anywhere they had a "bank".
Since marauders would not be given your gold the receipt was your claim on the gold but basically worthless to thieves.  This strategy worked, banking began to become something like we think of today.  In the end though people use banks for two primary reasons….
 To safely hold money
 To utilize the bank as a payments system (money in like direct deposit and out like say a check to pay a bill)
While some people do "live on bitcoin" and are very concerned with the second point, those people already tend to be self custody types. So we are going to focus just on #1 for this issue, safely holding bitcoin.  Because people are comfortable with modern banks they tend to be okay with a crypto exchange pretending to be a "crypto bank", yet as we will see today your money isn't even that secure in a "real bank".
Join Me Today to Discuss…
The stories of how banks came into existence

Grain bills and pharos
International banking
Regional banking (wild cat banks) – link

Why people think banks are secure places to hold money

Modern banking in general works very well
FDIC insures almost 100% of deposits for the average person
Schools teach use banks are safe from early childhood
Many services in our lives pretty much require a bank account
Credit/Debit cards have protections built into them

Why banking is not as secure as you think

State and federal governments can and do lock and seize accounts
Your holdings can be locked for lawsuits, etc.
A bank can pretty much lock up the funds of any account at any time

Why crypto exchanges have the same risks but also have

Significant counter party risk – no guarantee of reserves
Very little regulation and hence no probability of being "bailed out"
Often co mingle funds into high risk activities like "yield farming"

What is self custody and is there any down side

Self custody means you hold your own keys (12 words)
No party can take, lock, etc. your bitcoin
Determining exactly how much you have is difficult for a third party
But if you loose access and your phrase you are screwed

What forms of self custody are there

Software wallets – bronze standard
Hardware wallets – silver standard
Hardware wallets with your own node – gold standard

Other options and why you might use them

2 of 3 multi sig
Custodial accounts for things like IRAs
Software wallets with a cold device

In the end bitcoin without self custody is probably worse than dollars in the bank
Video Version of Today's Show
Sponsors of the Day
Jack's Links
* The Bitcoin Breakout is a production of The Survival Podcast