Bitcoin is Freedom & Many Fear Freedom – Epi-35
Podcast: Play in new window | Download (Duration: 1:26:37 — 24.8MB)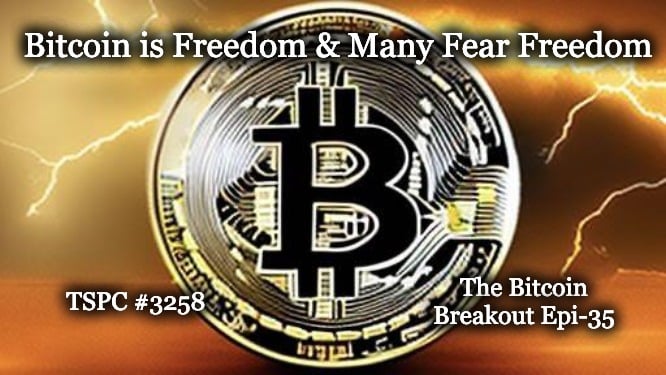 Like many I initially came to Bitcoin due to the simple concept of "number go up", that was a long time ago and all I can say is I regret every bitcoin I didn't buy and every bitcoin I ever spent.  I traded shitcoins for a while, mostly successfully as to profit.  Yet the simple act of DCAing and HODLing Bitcoin would honestly have me ahead right now, had it been all I had ever done.
In that time, I became a 99% Bitcoin Maxi.  I still see the case for a privacy tool like Monero and remain open to something from the shitcoin world, serving some actual purpose some day.
The real awakening for me though is that Bitcoin was really the only thing in the "crypto space" that is 100% about another simple phrase, "freedom go up".  Bitcoin is truly an unstoppable force at this point.  There is no company or entity behind it to attack.  Despite what FUD from the media says, Bitcoin is not "controlled by mysterious coders", as node runners are in control.
The prospect of attacking Bitcoin for government is that of playing wack a mole with 10,000 moles, who bite and multiple every time you hit one.  Every day the network becomes stronger, the utility becomes greater.  When anyone from a guy in a garage or an MIT professor develops tech for Bitcoin, everyone is better for it, instantly.
And this led me to the number one reason people are afraid of Bitcoin, they are afraid of freedom itself.  We will discuss this and other topics about the current state of Bitcoin today.
Join Me to Discuss…
Why "I don't buy bitcoin because I don't understand it" holds no water when most say it
Why we need a decentralized digital currency to fight a world moving to centralized digital currencies
Why gold really lost the war as "money" even though it was a great form of money in its time
Freedom is responsibility and responsibility is risk, the risk of betting on yourself
Why if you don't self custody with at least a good hardware wallet you don't own any bitcoin, just an IOU
Why Bitcoin fits with all decentralized systems beyond being a payments network (function stacking)
Is Bitcoin a store of value, a payment network, both or something more
The people telling you Bitcoin won't make it thought the Internet was a fad not so long ago
We are entering "Bitcoin Spring" in the 4 year cycle here is what that means
Jack's Links
Sponsors of the Day
Video Version of Todays Episode
* The Bitcoin Breakout is a production of The Survival Podcast