Why Bitcoiners Become Preppers – Epi-34
Podcast: Play in new window | Download (Duration: 1:28:40 — 25.4MB)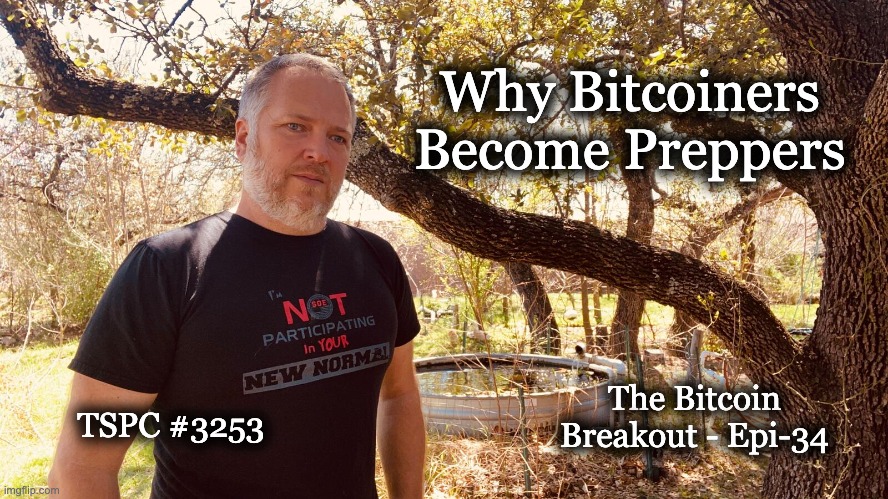 Today I am solo and am simply going to discuss what is actually the primary reason I started The Bitcoin Breakout as a production of The Survival Podcast.  Simply put in the last 4 years I have watched many bitcoiners on Twitter and elsewhere post pictures of new homesteads, solar arrays, gardens, grass fed beef, new homesteads, etc.
I'd say the big topics that bitcoiners come into after fully being onboarded are in no particular order…
Growing your own food
Carnivore/keto/paleo diets
Permaculture/Regen Ag
Alternative energy
Libertarian values
Guns
Skillset Development
Prepping
The big issue though is all these things are part of prepping, I know as I have been teaching the subject for 15 years now.  And this means that most Bitcoiners who come to prepping vs. preppers that come to bitcoin come in as "baby preppers".  This is not an insult, we were all "baby preppers" at one time.
The issue is the prepper community is diverse but most of it has matured across time.  Yes there are still the group I call "armed compound idiots".  They also all seem to want to build a "community" and in this they mean a physical one, the entire "get a piece of land, grow our own food, all live together", thing.
None of this is bad, and only some of the thinking is bluntly wrong (mostly the parmilitary mindset BS) but it is all a bit confusing to folks.  To put it in perspective for the hard core Bitcoiner.  Think of the person you've met (real world or online) that came to Bitcoin though shitcoins.
May be they YOLO'd into Doge or something due to Elon Musk, doesn't really matter what.  But they keep learning, seek truth, come to Bitcoin eventually.  They have questions, ideas, concerns and beliefs the core bitcoin community have already long since dealt with.
Some ideas sound good, but have already been done and are working.  Some are really bad ideas, already been tried and failed miserably.  Some are just plain wrong but as a baby Bitcoiner they can't see it.  Some of the advice they get are from smart money people, who know jack shit about Bitcoin.
Same thing when Bitcoiners who never prepped, homesteaded, etc. come to this space.  They do things that seems smart, say take advice from a Navy Seal or Green Beret on setting up a property.  But those guys as bad ass as they are don't now the first effing thing about 95% of what you need to know to do it right.  Just one of many examples we will cover today.
Share this one with your prepper and BTC maxi friends folks.
Join Me Today to Discuss…
What Bitcoin really shows people is truth
This leads to if I was lied to about money, what else was I lied to about
The first answers people find are…

The role of government
Nutrition and health
What true wealth is
The right of self defense

What are the common traits of a "baby prepper"

Got red pilled abruptly
Is in a state of fear, no matter what they claim
Becomes obsessed with finding the truth and learning about everything
Develops a perception bias and seeks to confirm it
Over reacts to the least of threats and ignores the most likely
Reads "prepper porn" and takes it seriously
Makes a lot of mistakes and spends a lot of money unwisely

FWIW most people who become wealthy by any means start this same line of thinking (rich guy preppers)
Why advice from a "special forces dude" for your compound is likely not what you need
Always think about your 6 primary survival needs

Food
Water
Shelter
Energy
Health & Sanitatoin
Security

Security is something you can do without forever or can't lack for 1 second at the same time

What are your most probable security threats vs. the world of prepper porn land
What can you do to improve your security in the real world
How many of your resources go in this basket
Procedures and protocols are more important that stuff and intellectual masturbation

Reality

You will want to eat every day
You need water daily
The biggest threat to your shelter is from legal or financial vectors
Your health is tied heavily to lifestyle
Sanitation is something people ignore but it kills more people than direct disasters every year
Energy is labor you don't have to expend
Security is all of the above, plus a means of defense
Food security is the first security

Final thoughts
Jack's Links
Sponsors of the Day
Video Version of Todays Episode
* The Bitcoin Breakout is a production of The Survival Podcast