The Merging of Bitcoin & AI – Epi-43
Podcast: Play in new window | Download (Duration: 1:42:24 — 29.3MB)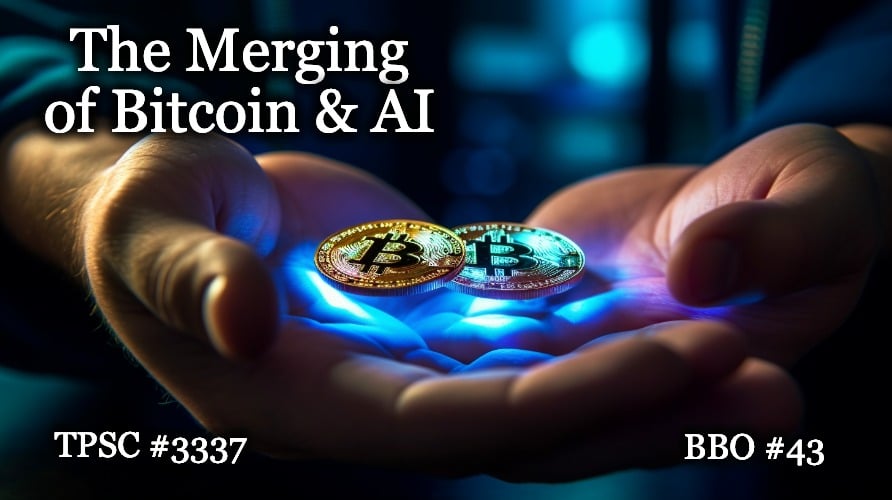 Recently Guy Swann did an exceptional episode of AI Unchained (Episode-5 with Kody Low) and it really got me thinking about where these two worlds are headed. We will cover that, and some other really exciting news about Bitcoin and Nostr as well today.
The biggest thing I took from Guy's episode with Kody is this concept,
An absolute finite resource is necessary to control and unlimited one.
I have been saying a version of this for years in the form of, "if you want an abundance of everything you need scarce money".  When you think about it this really is the same concept but the application in Guy's episode was a new one to me.  The unlimited resource here is "API calls" or in essence when done without limit, spam.
Think about it, if you are using AI to spawn bots and using bots to make API calls to AI systems the resource drain is extreme.  And we are entering a world where the amount of automation of "human like agents" that can be spawned is well, unlimited.  What is needed to prevent this from overloading systems and causing developers huge expenses is a limiting mechanism.
On July 3rd when Guy dropped this episode the idea of using Bitcoin and Lightning for this was just an idea.  The concept being the legitimate API users would use a lightning payment per call to allow the system to be used as designed but a spammer would have to pay for the ability to do so.  I really recommend listening to that episode and we will expand on it today here.
Join Me Today to Discuss…
What an api call is and why it creates a cost
Why billing with the current credit based system can't solve the problem
Lightning labs has already created a way for ai to utilize this (within a couple weeks) – link
How this tech will enable people to collaborate on independent AI models and revenue share doing it
What this means long term for BTC pricing (lightning locks up bitcoin long term)
The sad reality of the last ditch objection to Bitcoin, "But what happens when the grid goes down?"
The Blackrock ETF looks like it may happen, but no they won't "coop Bitcoin"
The difference between a closed end fund like Grayscale and an ETF
The difference between a futures ETF and and spot ETF
What happens when the halving hits in the next cycle less than one year from now
Bitcoin on exchanges is already at a three year low and still dropping – link
What happens if a nation or several nations right now are actually accumulating Bitcoin already


`
Jack's Links
Sponsors of the Day
Video Version of this Podcast Episode
* The Bitcoin Breakout is a production of The Survival Podcast